Checkers super fan – Take 1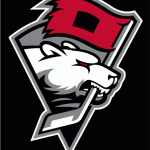 The Charlotte Checkers are having a contest to name fan of the year.  The prizes are awesome and I would love to win.   All I have to do is write an essay of 200 words or less answering the question: "If you were talking to someone that had never been to a Checkers game before, what would you tell them to get them to join you?"  Not so hard at face value.  The problem is I have so many different ways to go about this.  Do I take a marketing approach or try to be clever and write out my answer in the form of a script?  Maybe I try to get artsy or perhaps I just talk about why the Checkers are the best team in town.  Over the next couple posts I will be exploring a few of these different ideas that are rolling around in my head and taking any advice people want to give.  Hopefully one of these stands out and gives me the win.
The most basic approach is to write out the benefits of going to a Checkers game in long paragraph form.  Here's my take on that basic approach:
Why would you spend a lot amount of money to go watch the continually disappointing Panthers or Bobcats when the best team in Charlotte is less expensive and has more than those two combined?  If you want to support a home town team that rarely disappoints and won't break the bank go watch the Charlotte Checkers.

The inexpensive tickets get you in the door but the value that lies inside is like nothing else Charlotte has to offer.  The smiles from the beautiful Checkmates and warm staff greetings assure you that you've come to the right place.  Grab a three dollar beer or a free soda, if you sign up for the designated driver program, and settle in with your bottomless popcorn for a night of fast moving hard hitting action

From the moment the National Anthem signals another hockey night in the QC, to the moment the final horn sounds you will be entertained.  The game is the main draw but the promotions and contests keep you continually occupied.  There are contests to win prize packs, a ride on the zamboni, manly makeovers, cash prizes, upgraded seats, or just free beer koozies.

What more could you want for your $15 dollar ticket?
I'm not sure I like this approach.  Those 3 paragraphs have a lot of words but say very little.  Which, in reality, is nothing new for me.
[ad] Empty ad slot (#2)!
No comments yet.
No trackbacks yet.
about 12 years ago - No comments
This past weekend I hit a geocaching milestone.  I found my 1000th geocache find.  Many of my 1000 were located in parking lots or on guardrails, or other places that took little to no skill to find.  Not to say that I haven't had my fair share of memorable caches in that 1000 though.  There…