Finally! An acceptable theme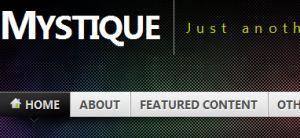 Puttzy.com is moving right along.  Not quickly or easily, but it is progressing.
I spent about 6 hours today browsing the countless theme sites and directories of WordPress themes that exist.  There must be thousands of them, if not more.  After a while I stopped relying on google and started looking at the pingbacks that were listed on a specific site so that I could find lists that may not have had as much google juice.  That is when i started to find the good stuff.

I'm now an expert at finding, installing and configuring WordPress themes.  Sadly I'm also very good at becoming disappointed, installing, and deleting the originally downloaded zip file.
Somehow through my twisted weaving through the web I managed across a site called Instant Shift which covers a bunch of different topics from resume building, to WordPress themes and self branding, to photography examples.  (I've just added them to my google reader so I'm sure I'll be sharing a few articles in the future and you'll be able to see them at the bottom of this blog.) The mystique theme they had listed that I'm currently using is perfect for what i wanted.
The major features it has that i was looking for is:
highly customizable
header image or text
custom background support
support of WordPress 3.0+ custom menus
good widget support
one, two, or three columns in multiple configurations
awesome ability to embed "shortcodes" (which makes it extremely easy to put advertisements from google AdSense)
supports a photo in the excerpt listing on the main page, but doesn't look horrible if one is not present
scrolls a marquee (or not) of selected posts
fixed or fluid layout
4 different colored themes built in
built in lightbox for images (click the mystique logo above to see what I mean)
I think that about sums up everything.  As of right now I couldn't be any happier with this theme.  The only thing I'm not very fond of is the twitter and rss feed links up on the top right.  I love the functionality but from a user interface perspective I'm wondering if they would be that effective.  I guess only time will tell.
Now if only I knew someone that could design me a "Puttzy" logo.