Charlotte Observer steps up Checkers coverage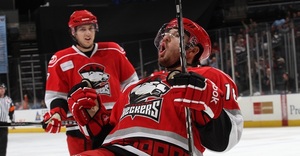 Deep down inside I know that I didn't make a difference, but I'd like to think I did.  After all, who doesn't want to think that with one silly little blog post critiquing the Charlotte Observer you can change the way something works.  That being said please don't burst my bubble.  Let me think that just MAYBE I had something to do with this.
This morning I log onto the Charlotte Observer website to see what all I missed out on by not watching the local news.  Imagine my surprise when on the very front page I see a picture of Charlotte Checkers goaltender, Mike Murphy.  The VERY front page of the website.  I know!!  Shocking.  It is right up there with an article on the possible snow, and Jimmy Claussen's mushed up sad and confused, yet smug, bulldog face.  It is even higher on the page than the article about "Police looking for sex assault suspect."  Interesting.  But hey, I'm not going to complain.
When I hit up the sports section to see what it looks like over there I see more of the same.  An article, directly under a collection of articles on the Panthers, and even a link to 23 pictures.  How awesome is that?!?!  It's great to see that on a day when the Panthers had a home game, the Checkers can still get some coverage.
Now onto my only gripe about the coverage.  This isn't meant to seem unappreciative of the increased coverage, but it is just little something I noticed.  The write up about the game is titled, Checkers move up with win, but actually makes no mention of the standings or how Charlotte moved into third place over the same Hershey Bears they just defeated.  Like I said, it's just a minor point.
Here are the two screen shots from this mornings observer.
As a side note I'm not sure how to attribute the top picture in the post, but it came from the GoCheckers.com website. I don't want people to think I'm trying to steal credit for anyone's work.
[ad] Empty ad slot (#2)!
No comments yet.
No trackbacks yet.
about 12 years ago - No comments
So I've written, rewritten, self-promoted, blogged, tweeted, and facebooked all in an effort to become the Checkers Fan of the year. It all paid off. I'm now one of 16 finalists for the Charlotte Checkers fan of the year. I realized after meeting the other candidates and getting more information on what is in store…