Becoming a superfan – Take 3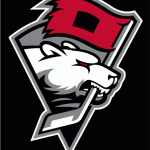 The Charlotte Checkers are having a contest to name fan of the year. The prizes are awesome and I would love to win. All I have to do is write an essay of 200 words or less answering the question: "If you were talking to someone that had never been to a Checkers game before, what would you tell them to get them to join you?" Not so hard at face value. The problem is I have so many different ways to go about this. Do I take a marketing approach or try to be clever and write out my answer in the form of a script? Maybe I try to get artsy or perhaps I just talk about why the Checkers are the best team in town. Over the next couple posts I will be exploring a few of these different ideas that are rolling around in my head and taking any advice people want to give. Hopefully one of these stands out and gives me the win.

I went WAY out of my comfort zone with this one.  But I'll admit it was fun and definitely a challenge.  I'm not sure how I even came up with this idea, other than I was trying to think of something different. I think this certainly qualifies as different.  I've never been able to tell a good haiku from a bad one. So, to me, this is both wonderful and terrible at the same time.  Does anyone know what makes a good haiku?
A chill in the air
prompts goosebumps to rise on arms
and excitement to build

Chubby, the white bear,
plays with children and adults
spreading happiness

The horn sounds, puck drops.
Fast and fluid, players glide
on shiny white ice

Checkmates dance and cheer,
While Wilson pumps up the crowd
With "lets go Checkers!"

Bone ratteling hits
send players into the glass
and crumbling down

Stick to stick passing
moves the puck through neutral ice
for a scoring chance

A big wind up starts
and a slapshot is released.
Blurring the black puck

The puck navigates
around a tangle of legs
stopping in the net

A red light comes on,
the horn sounds, while people cheer
and thousands scream "woooo"

Fans jump out of seats
ringing cowbells, share high fives,
and pound on the glass

Players celebrate
in a circle with fist bumps
and delighted smiles

Again, Checkers win
and people are overjoyed
with "Our Team, Our Town"
Almost certainly this will not be my submission, but like I said it was something different and strangely fun.  Try writing a haiku to describe something you like and see what a challenge it is.
[ad] Empty ad slot (#2)!
No comments yet.
No trackbacks yet.

about 12 years ago - No comments
This past weekend I hit a geocaching milestone.  I found my 1000th geocache find.  Many of my 1000 were located in parking lots or on guardrails, or other places that took little to no skill to find.  Not to say that I haven't had my fair share of memorable caches in that 1000 though.  There…