Becoming a superfan – Take 4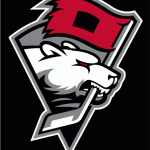 The Charlotte Checkers are having a contest to name fan of the year. The prizes are awesome and I would love to win. All I have to do is write an essay of 200 words or less answering the question: "If you were talking to someone that had never been to a Checkers game before, what would you tell them to get them to join you?" Not so hard at face value. The problem is I have so many different ways to go about this. Do I take a marketing approach or try to be clever and write out my answer in the form of a script? Maybe I try to get artsy or perhaps I just talk about why the Checkers are the best team in town. Over the next couple posts I will be exploring a few of these different ideas that are rolling around in my head and taking any advice people want to give. Hopefully one of these stands out and gives me the win.
This approach doesn't really answer the question that I'm supposed to in a conversational manner but it does answer the question.  Kind of.  I guess I channeled my inner Billy Mays to write this one up.
<announcer voice>

Are you tired of trying to find something unique to entertain your family?  Something that will let the rambunctious kids expend energy, and the laid back ones relax and enjoy some quality entertainment.  Well look no farther because I have the perfect opportunity for you.

Checkers Hockey.

For one low price you can take your family of four to a championship caliber hockey game right here in the QC.  That's right!  The greatest sport on ice is right here in Charlotte. (That is until ice volleyball takes off)

For one low price you get four tickets, four hot dogs and four cokes!  Let's see the movie theater offer you 3 hours of entertainment at such a value.

How much would you expect to pay for such a deal?  $75?  $100? $200?

How about only $55!!  That's right!  For the meager price of $55 you can feed and entertain a family of four for three hours.

But wait…..there's more!!!

Immediately after the game the players will join you on the ice for a skating and autograph session.  That's right!  You get to skate on the same ice as tomorrows NHL stars.
Ok.  That probably wasn't ideal, but it was something different.  In all of my other attempts I never really hit on the points I mentioned here.  My problem was trying to mention these things without making it sound like a form letter where i just plug and play one of the many reasons a person should attend a Checkers Hockey game.
No trackbacks yet.

about 12 years ago - No comments
This past weekend I hit a geocaching milestone.  I found my 1000th geocache find.  Many of my 1000 were located in parking lots or on guardrails, or other places that took little to no skill to find.  Not to say that I haven't had my fair share of memorable caches in that 1000 though.  There…